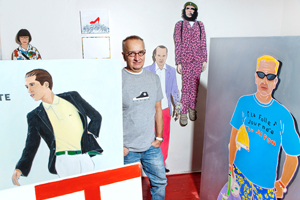 Jiří Votruba
Born: 8.12.1946 in Prague
Studies: Faculty of architecture, CTU in Prague, 1970
Activities: painting, illustration, graphical design, design
Czech painter, graphic, illustrator - artist with characteristic style.
His paintings were presented at almost 50 exhibitions all around the world. His work is divided into various themes (e.g. swimming pools, shoes, etc.), in recent years he is fascinated by consumer society and its attractivity.
Illustrations of this artist are connected especially with the literature for kids. The most succesful one was book, which introduced children to the world of opera.
Graphical design of Jiří Votruba is easily recognizable. He is well known for his works with theme of historical Prague. His design works dedicated to classical music get a lot of attention especially in Japan.
Individual exhibitions
show all
2021 » Eslite, Hong Kong /Movie Movie festival/
2021 » City Museum Zbiroh
2020 » Gallery 1. patro, Prague
2019 » Gallery SPACE K; Seoul, Korea
2019 » Cermodern, Ankara, Turkey
2019 » Black Swan Gallery, Prague
2017 » Garden Gallery, Kolín, CZ
2017 » New Scene Gallery of National Theatre, Prague, CZ
2017 » Southbohemian Philharmony, České Budějovice, CZ
2016 » Czech center Paris, France
2015 » Gallery Kryt, Klášterec nad Ohří, CZ
2015 » Levantehaus, Hamburg, Germany
2015 » Czech Center Tokyo, The Book of Piano
2015 » Gallery of Czech center, Paris, France
2014 » Gallery Budoart, Prague, CZ
2013 » Otto Guttfreund gallery, Dvůr Králové, CZ
2012 » Summer Cut, Galerie 1. patro, Prague, CZ
2012 » Gallery Kryt, Klášterec nad Ohří, CZ
2011 » Al Bustan Festival, Beirut, Lebanon
2011 » City Concert Hall, Niagata, Japan
2011 » Things Will Never Be The Same, Galerie Českých Center, Prague, CZ
2010 » Praha City Center, Prague, CZ
2010 » Kanazawa Concert Hall, Kanazawa, Japan
2009 » Kleisthaus, Berlin, Germany (with M. Kaufman and L. Klimentová)
2009 » Gallery of Prefecture Ishikawa, Kanazawa, Japan
2008 » UMU Gallery, Tokyo, Japan
2008 » Městská galerie, Litvínov, CZ
2008 » French Institute, Chartoum, Sudan
2008 » Galerie kritiků, Prague, CZ
2008 » Galerie V kapli, Bruntál, CZ
2008 » České centrum Bratislava, Slovakia
2007 » Gallery Horizone One, Cairo, Egypt
2007 » Tokyo International Forum, Japan
2007 » Galerie Bayer & Bayer, Prague, CZ
2006 » UMU Gallery, Tokyo, Japan
2006 » Al Bustan Festival, Beirut, Libanon
2006 » Galerie Pintner, Frankfurt am Main, Germany
2005 » Východočeská galerie, Pardubice, CZ
2004 » Raiffeisenbank, Prague, CZ
2003 » Levantehaus, Hamburg, Germany
2002 » Gallery Sumithra at ART PRAGUE 2002
2002 » Kabinet, Prague, CZ
2002 » Jazz Festival Hradec Kralové, CZ
2002 » Galerie Bayer & Bayer, Prague, CZ
2001 » Gut Altentann Club, Salzburg, Austria
2001 » Int. Hopkins Summer Festival, Kildare, Ireland
2000 » Galerie U mloka, Olomouc, CZ
1999 » Galerie Nový Svět, Prague, CZ
1999 » Raiffeisenbank, Prague, CZ
1998 » Gallery Sumithra, Ravenna, Italy
1998 » Tempo Reale, Merano, Italy
1998 » Czech Centrum Estergom, Hungary
1998 » Bank Austria, Prague, CZ
1997 » Mánes, Prague, CZ
1997 » Gallery Repolier, Tokyo, Japan
1996 » Maison de la Culture, Montreal, Canada
1996 » Galerie Nový Svět, Prague, CZ
1996 » Kawamura Museum, Japan
1996 » Ludwig Museum, Saarlouis, Germany
1996 » Czech Centrum, Sceczin, Poland
1995 » Alfa Omega galerie, Karlovy Vary, CZ
1995 » A. Usiskin Contemporary Art Gallery, London, GB
1994 » Chambre de Commerce, Strasbourg, France
1994 » American Chamber of Commerce, Prague, CZ
1994 » Divadlo Labyrint, Prague, CZ
1993 » Bank Austria, Prague, CZ
1993 » Siemens, Linz, Austria
1993 » Landgalerie Heilbronn, Germany
1992 » Galerie Bratří Čapků, Prague, CZ
1991 » Galerie Dielo, Bratislava, Slovakia
1990 » Galerie Letná, Prague, CZ
1990 » Galerie F&F, Wien, Austria
1990 » Galerie Hofkabinet, Linz, Austria
1989 » Malá Galerie, Čs. spisovatel, Prague, CZ
1988 » Galerie Centrum, Prague, CZ
1985 » Galerie PRO ARTE, Salzburg, Austria
1984 » Galerie Karolina, Prague, CZ
1983 » Galerie Fronta, Prague, CZ
Group exhibitions
show all
2016 » Sportu zdar, DOX, Prague, CZ
2015 » Hamburg - Praha, Old Town Hall, Prague, CZ
2014 » City Gallery Liberec, The Swimmers, CZ
2014 » ART PRAGUE, eS Gallery, Prague, CZ
2014 » Gallery of Art Critics, IL MONDO BELLO, Prague, CZ
2012 » Mikulovské symposium, Mikulov, CZ
2011 » Teatro Mundi, Tampere, Finland
2011 » Vzhuru, Galerie Millenium, Prague, CZ
2011 » Biennal of Illustration Bratislava 2011, Bratislava, Slovakia
2010 » Contemporary art from Prague, Levantehaus, Hamburg, Germany
2010 » Trienale of contemporary Czech illustration, Havlíčkův Brod, CZ
2010 » Crazy colorful world, Milenium gallery, Prague, CZ
2009 » Jeux de mots et vocabulaires, Maison de la culture, Arlon, Belgium
2008 » Oum Kalsoum, Institut du Monde Arabe, Paris, France
2008 » Lovely world of fauna and flora, Mältinranta Artcenter, Tampere, Finland; Galerie kritiků, Prague, CZ
2007 » Loď bláznů, Galerie kritiků, Prague, CZ
2007 » Bienále ilustraci BIB, Bratislava, Slovakia
2007 » Autour de l´estampe, Than, Francie
2005 » Salon české scenografie 05, Prague, CZ
2004 » Mediatheque Guebwiller /Clad, Weber, Votruba/, France
2004 » Ateliers ouverts in Alsace / Lorraine, Baden Wurtemberg, atelier Didier Clad, France
2003 » Národní divadlo zase hoří, Kolowratský palác, Prague, CZ
2003 » 3 Prager Kunstler, Levantehaus, Hamburg, Germany
2001 » Pravděpodobna malba, Česke centrum, Berlin, Germany
2000 » Dokouřeno, Mánes, Prague, CZ; Dům umění Opava, CZ; Olomouc CZ; Svitavy CZ
2000 » Pravdepodobna malba, Mánes, Prague, CZ
1998 » Tak daleko, tak blízko, MXM Galerie, Prague, CZ,
1998 » Tak daleko, tak blízko (higway bigboards)
1998 » Prahy, Mánes, Prague, CZ
1996 » Český design Brno
1995 » Nové sdružení pražských umělců, Kroměříž
1995 » Nové sdružení pražských umělců, Třebíč
1994 » Hromy & Blesky, Prague, CZ
1994 » Nové sdružení pražských umělců, Vyšehrad, Prague, CZ
1994 » A. Usiskin Contemporary Art Gallery, London, GB
1984 » N&P, Paris, France
Graphical design
Fun Explosive
» Kafka and Mozart themed designs based on historical and cultural Prague, graphics, ceramics, textile, etc.
» historical and cultural designs based on Vienna and Salzburg
Pragoeduca » corporate image, books, advertising
Albatros » paper toy studio
Amnesty International » posters, advertising
Mozart Museum Salzburg » graphical cooperation
Arta Records » CD covers, posters, graphical cooperation
Prague Tourist Center » corporate identity
Andersen Consulting » graphical cooperation
AC Sparta Praha » soccer team logo
The Prague Post » graphical cooperation
Angličtina Express » corporate image, books, advertising
Sparky's Praha » graphical cooperation
Minato Mirai Hall Yokohama » graphical cooperation
Kato Kenichi Theatre Group » graphical cooperation
Avex Tokio » graphical cooperation
Státní opera Praha » poster design
Sapporo Concert Hall » graphical cooperation
CSA Tokyo » graphical cooperation
P-Centrum Olomouc » mental health days
Dětská opera Praha » graphical cooperation
Egon Zender International » graphical cooperation
Cafe Mozart Japan » graphical cooperation
Národní divadlo Praha » graphical cooperation
Tokyo Int. Forum » graphical cooperation
Expo Aichi 2005 » official poster of the Czech exposition and graphical cooperation
Česká televize » EXPO 2005 animated jingle
Media
Illustration
Books
Nakladatelství: Mladá fronta (J. Updike, J. Cortazar, R. Sloboda...), Čs. spisovatel, Albatros, Práce, Motto, Pragoeduca, Fun Explosive, Pandora Group, Amulet, Práh
Magazines
Mateřídouška, Sedmička (např. Tajný deník A. Molea), Filip, VTM, Ty a já, Temps Fou, Makovice
Animated film
Návrat zlaté rybky » Studio J. Trnky, Barrandov, 1988